Free Falling: the space in between
Sep 04, 2020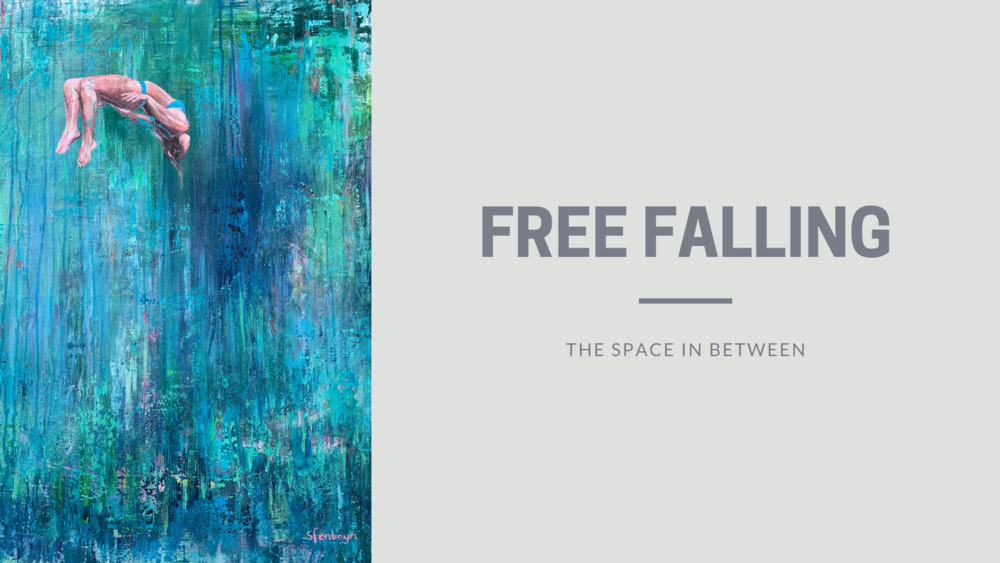 The magic of free-falling and the space in between
« Free fallin'» is the title of one of Tom Petty's songs sung by John Mayer. It's about a break-up. What a powerful metaphor about transitioning change, it's not only relevant for break-ups but is the phase the follows any kind of big change.
Change comes in all shapes and sizes. Some changes in life are choices, and others are unexpected. Like the current pandemic, we are all learning to adapt.
My "Free-falling" paintings are about 'space in-between'. It's the transitional space we enter when one thing ends, and another begins. You can call it the chapter in your book of life that connects the past with the future.
When you peer in the face of the unknown feels like standing on the edge of a diving board. And you're about fall into an abyss. It can be terrifying and sometimes exhilarating at the same time, a bit like public speaking or anything else that takes you out of your comfort zone.
The good news is, if you embrace the free-fall, versus panicking, it's an opportunity to pivot. Flip. Turn over a new leaf. Or see things from a new perspective.
What's your latest free-fall story?
I'd love to hear about it in the comments below or send me an email!
Enjoy the free-fall and the discoveries it brings!
Are you frustrated that this painting has already sold?
This painting has already sold fast through the '1st dibs' system.
If you would like to have the opportunity for '1st dibs' on my paintings before they leave the art studio - send me a quick email message, and I'll give you '1st dibs' on paintings that fit your fancy!
Otherwise, you can check out more from this collection by clicking here.
Stay safe!
Steph