art direction
The Art and creative direction that Steph recently provided for MMV's 20th anniversary was exceptional. She was able to help create innovative products--interactive sculptures, beautiful visuals--that helped bring our high-level event alive. In addition to demonstrating our organisation's creativity through her art and constructions, she was a real pleasure to work with--responsive, cost-effective, and hitting a nice balance between taking and giving direction. I was astonished at the energy that outstanding art could bring to an event and will definitely use her again for future projects."
Andrea Lucard | Executive Vice President | Medicines for Malaria Venture | Switzerland
"The Art and creative direction that Steph recently provided for MMV's 20th anniversary was exceptional."
ANDREA LUCARD - EXECUTIVE VICE PRESIDENT - MMV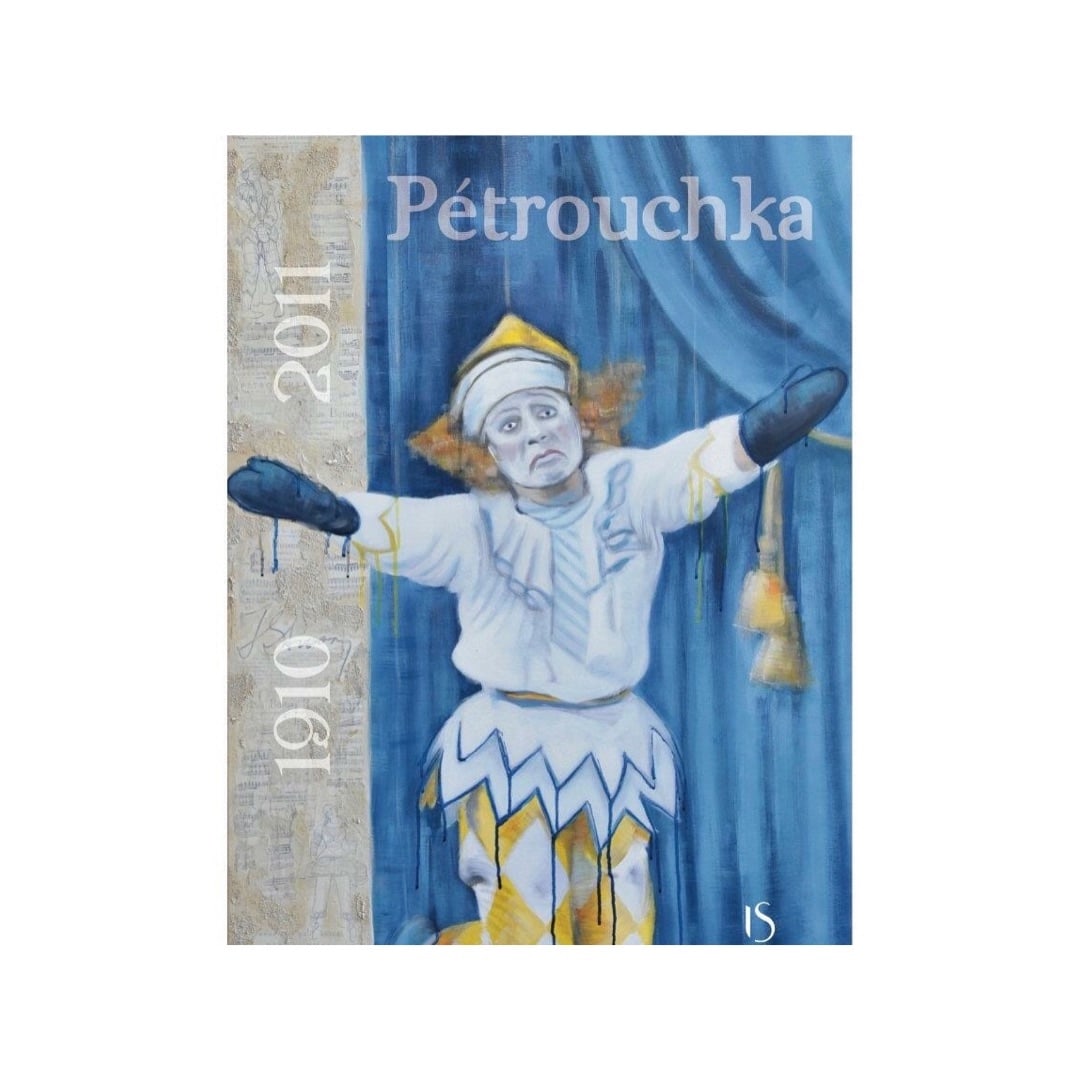 IGOR STRAVINSKY FOUNDATION
I came to know Steph Fonteyn a few years ago when she hosted an exhibition in Geneva. I was immediately attracted by her expressive paintings, with bold colours.
As we were about to celebrate the centenary of Igor Stravinsky's famous ballet Petrouchka, I had the idea of asking Steph whether she would be interested in collaborating with the Fondation Igor Stravinsky on this occasion.
We discussed the possibility of an artwork that could be printed and used for our communication (posters, postcards). We talked about the ballet, the theme and the fate of Petrouchka. While working on her painting, Steph told me she listened to the ballet to feel and better absorb the story's atmosphere and find inspiration.
After two weeks of work, she was so inside the story that she confessed to me, bearing a feeling of sadness. This frame of mind led Steph to produce an expressive Petrouchka that reveals his struggle and insecurity, and we can feel the emotion of the ballet through this fantastic painting.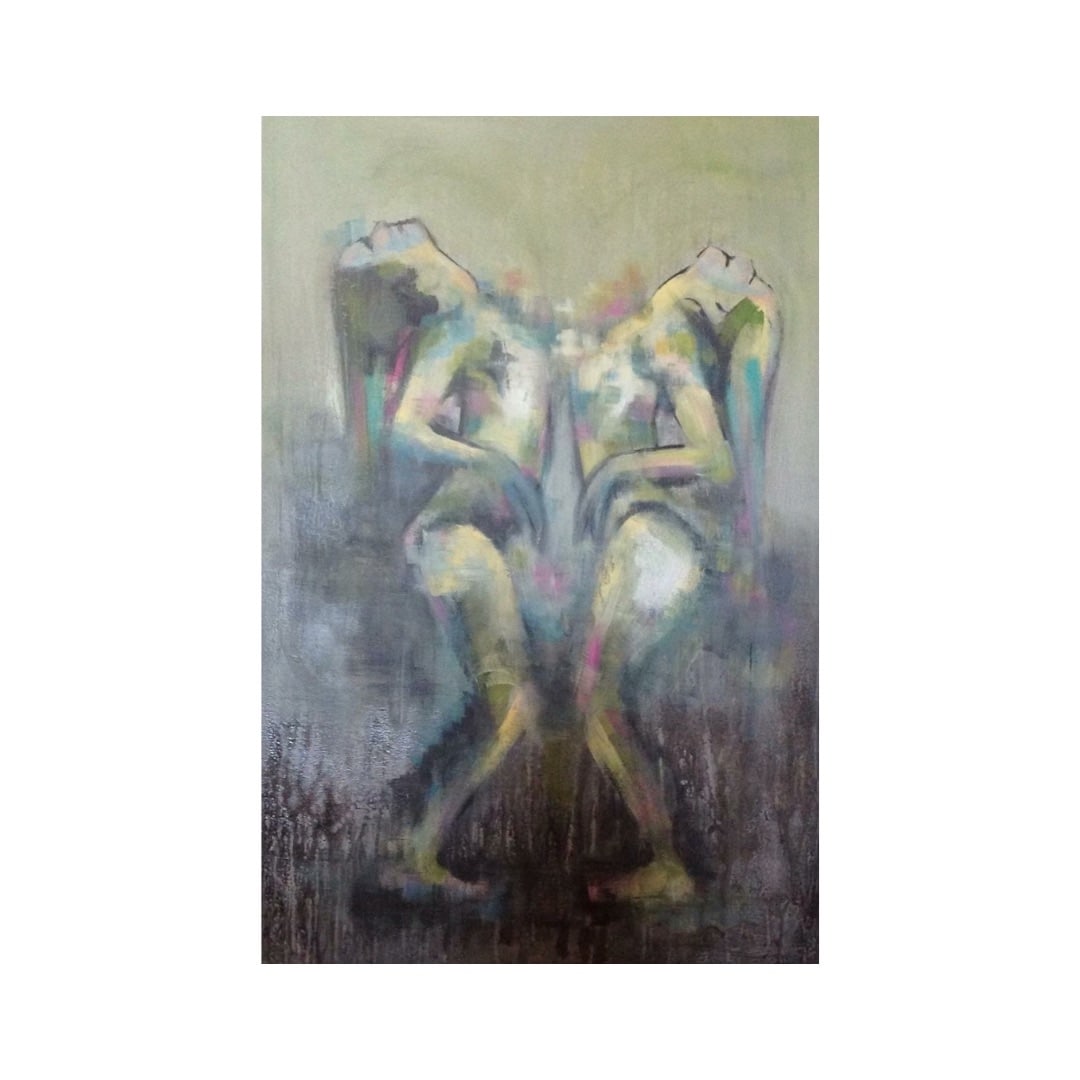 Two years later…

we collaborated once more with Steph Fonteyn on the Rite of Spring centenary occasion. She was inspired by the spring rounds, a dance known for its mysterious beauty. Steph painted another stunning artwork representing two young maidens ready to be selected as "the chosen one".
The same year, Steph proposed we take part in her colossal challenge, The 100 Faces Project, offering to paint Igor Stravinsky's portrait as part of a giant mosaic that would be exhibited in a gallery in Geneva. I was more than interested and excited about this idea.

WORDS FROM MARIE STRAVINSKY
IGOR STRAVINKSY FOUNDATION
SWITZERLAND
I'm very impressed by the subtle light and the astonishing maturity demonstrated in this remarkable portrait that reflects the maestro's personality so well. I encourage anyone who doesn't know Steph Fonteyn yet to discover this highly versatile artist.
"Working with Steph on branding for MMV's 20th-anniversary project was a creative fest!"
JAYA BANERJI - SENIOR DIRECTOR OF COMMUNICATIONS
Creative branding
Working with Steph on branding for MMV's 20th-anniversary project was a creative fest! At the very start, she spent quite a bit of time talking with me to understand who we were and the event objectives – one of which was to celebrate partnerships. I wanted something beyond our organisational 'look and feel' to brand our special event. So, we worked together to conceptualise several projects that would have an impact and memorability. Based on our conversations, she delivered an amazing set of two digital artworks that we used on the PowerPoint cover slide, bookmarks and postcards. I was still looking for a grand centrepiece, and she suggested a live art installation that all participants could contribute to with their names. Using the idea from one of the digital artworks, she built a paper-maché structure of two hands cupping a child's hand, symbolising collaboration, aspiration, friendship, nurturing, and care. She has posted a film of this on her LinkedIn page. Another stunning idea Steph had was to create mosquitoes from recycled materials. She handcrafted each of the 20 mosquitoes, trapped them in perspex, and then these were placed on tables at the inaugural dinner. These amazing conversation starters now adorn the office reception. I thoroughly enjoyed working with Steph and hope I have the opportunity to work with her again."
Jaya Banerji |Senior Director of Communications | Medicines for Malaria Venture | Switzerland
For the 2021 Medicines for Malaria Venture calendar, we decided to take a road less traveled and combine our molecules with art. .
Steph came on board and produced one of the most beautiful calendars containing seven pieces of original abstract art on the theme of MMV molecules which have been developed into life-saving anti malarials.
She was also adept at seeing through the entire production process from design to print. We look forward to breaking more barriers between science and art through such collaborations.
Murchana Roychoudhury - Communications Coordinator - MMV
Steph can draw people in and create an atmosphere that promotes creativity, connections, and a positive environment while capturing the essence of what her client wants. The co-creation experience in a social setting enables people to mingle and exchange, and the result is stunning!
Danièle Castle - Switzerland
Danièle Castle - Switzerland
I've long admired Steph's work, so she was a natural choice when my husband and I decided to mark our wedding anniversary with an original piece of art. Having never commissioned a painting before, I wasn't sure how the process would go, but Steph was amazing. She kept us informed of what was happening at every stage, so we felt like part of the process. She also personally delivered the final canvas, which was a lovely final touch. Everyone who comes to our house falls in love with her painting; it's just perfect!
Melitta Campbell - Switzerland
I very much enjoyed working with Stephanie on different occasions. Stephanie is very good at finding creative ideas to leverage art to solve business or team challenges. Nothing is impossible with Stephanie! Besides her positive mindset and her very professional way of working, she always comes up with something great! Thank you, Stephanie!
Zina Thaifa - France
Stephanie did an excellent job leading a group of about 50 senior people from my company in a brilliant exercise to foster the concept of working together; an amazing result. Stephanie made it look and feel much easier than it was, witty and challenging. Well done!
Paulo Jorge Monteiro - Janssen - Portugal
Steph knows how to transform dry business processes into a sparkling and unique team experience. I always work with Stephanie with pleasure and have full trust in the exceptional results that she will deliver. Thank you, Steph!
Emmanuelle Savoie - Switzerland
I've had the pleasure of working with Stephanie in various capacities over the past ten years. She is extremely creative and inspiring. Steph can bring out the best in people vis-à-vis their creativity, leading to them feeling more confident in themselves. She is unique with her ideas and has an excellent way of interacting with people from all walks of life. I particularly enjoyed working with Stephanie in 2011 for an event we organised for International Women's Day. Steph is reliable, efficient and always goes that little bit extra to bring out the best in people as well as the best of herself. She is open to new ideas and receives constructive criticism well. I am thrilled to be able to recommend Steph.
Rachel Philips - Switzerland
Right from our first conversation, Steph showed a great understanding of what we were trying to achieve from our team building activity. Both Steph and Uli guided our 50+ marketers through a Collaborative Art® process that brought out creativity and teamwork. The work is now proudly hanging in our offices with many comments on where it came from! I would highly recommend Steph Fonteyn for your team's next project!
Matt Salter - VP Marketing - General Mills - Switzerland
We used Stephanie for a creative team-building exercise. The team started a bit sceptical about the exercise and nervous about their artistic abilities. Steph managed to guide us through a process that unlocked those doors and allowed every member of the team to engage fully in creating our team masterpiece, building our confidence that we could do it. We are all proud of the result and look forward to having it displayed in our office, where we will see it often. This workshop was one of the best team exercises we have done to date – encouraging good teamwork and building a common vision of our future."
Lynda Mansson - MAVA Foundation - Switzerland
I have worked with Stephanie and her team on numerous occasions, and each time, it has been an outstanding success. Collaborative Art® is unlike other team building - it takes people to a very different space in expressing opportunities and challenges and how they can be overcome and helps visualise the journey to a stronger and more collaborative future. It is also fantastic fun, and when you hear the cheers ring out when people finish their painting 'masterpieces', there is a sense of pure satisfaction on having created something quite wonderful together. As Stephanie has a corporate background, the integration of this team building event within a team meeting works very well. It can be designed very effectively to match the theme of the meetings.
Ruth Farrell, Switzerland
We had an excellent experience with Collaborative Art®, from preparation to the conclusion. We had fun despite our (lack of) artistic skills and time and produced a beautiful painting visualising how we imagine the future of our company. The result exceeded our expectations, and the painting now hangs in our office, showing the enjoyment, goals, and vision we work towards every day.
Rodney Reis - Switzerland
Thank you very much, Steph, for sharing your personal experience and unique perspective of how organisations can cultivate creative collaboration in the workplace. We all enjoyed your most interesting, stimulating and thought-provoking talk!
Michal Paserman - MBA & MML Programs Director - Webster University
Steph Fonteyn and Collaborative Art® were invaluable in making the first-ever TEDxZurichWomen event a reality. Steph was wonderful to work with. She had such dedication to the cause, and her hardworking nature, flexibility and positive attitude were present throughout. She organised a live collaborative artwork for the event, which was a huge success. It added to the day's creativity and imparted a sense of being a part of the whole initiative amongst attendees. Stephanie's talk at the event was also fantastic, with many positive comments from attendees who were touched by her story. Her passion for art and making a difference in people's lives shines through. Thank you, Stephanie!
RAHKI GUPTA - UK